Ray Epps Charged with Misdemeanor in Connection with January 6 Capitol Riot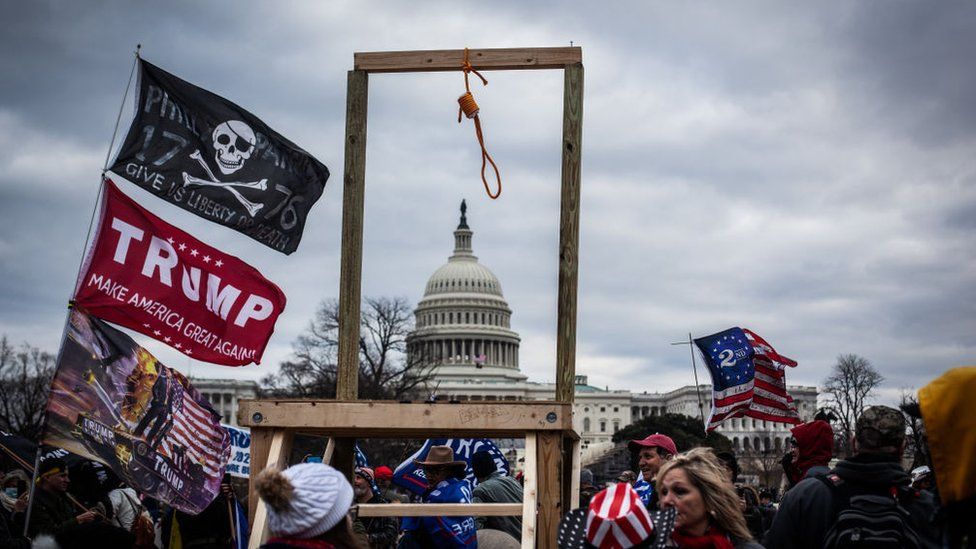 Ray Epps charged – a former Marine who became embroiled in a conspiracy theory related to the January 6, 2021, U.S. Capitol riot. (Photo: BBC)
Ray Epps Charged: Former Marine Linked to Capitol Riot Conspiracy Faces Misdemeanor, Expected Guilty Plea, Amidst Fox News Lawsuit
According to the Press-Telegram article, Ray Epps, a former Marine at the center of a conspiracy theory linked to the January 6, 2021, U.S. Capitol riot, Ray Epps charged has been formally accused of a misdemeanor offense related to his conduct during the riot. Epps is expected to enter a guilty plea for this charge, as indicated by his attorney and court records. In a lawsuit he filed earlier this year, Epps alleged that Fox News Channel wrongly implicated him as a scapegoat for the Capitol riot. The specific charge against Epps is disorderly or disruptive conduct on restricted grounds.
Epps, previously a supporter of President Donald Trump, claimed he went to Washington to protest the 2020 election results in favor of Joe Biden.
However, Fox News accused him of being a government agent who incited trouble to be attributed to Trump supporters, according to Epps' lawsuit. FBI Director Christopher Wray refuted these claims, stating that there was no evidence of Epps being a "secret government agent" and dismissing the notion that the violence on January 6 was orchestrated by FBI sources or agents.
Ray Epps Charged: Threats Force Epps and Family to Sell Home, Seek Safety in Rocky Mountains RV Life
According to the Mercury News, Epps and his family faced threats, forcing them to sell their home and live in an RV in the Rocky Mountains for safety. Epps' lawsuit named Fox News hosts Laura Ingraham and Will Cain, with Tucker Carlson being cited as the main promoter of the conspiracy theory.
Epps appeared in numerous segments on Carlson's show. Epps also mentioned that he was informed by the Justice Department in May that Ray Epps Charged with criminal charges for his actions on January 6, which he attributed to the relentless attacks by Fox News and Mr. Carlson, along with the resulting political pressure.