North Korean Leader Kim Jong Un Witnesses Test-Firing of Strategic Cruise Missiles from Navy Ship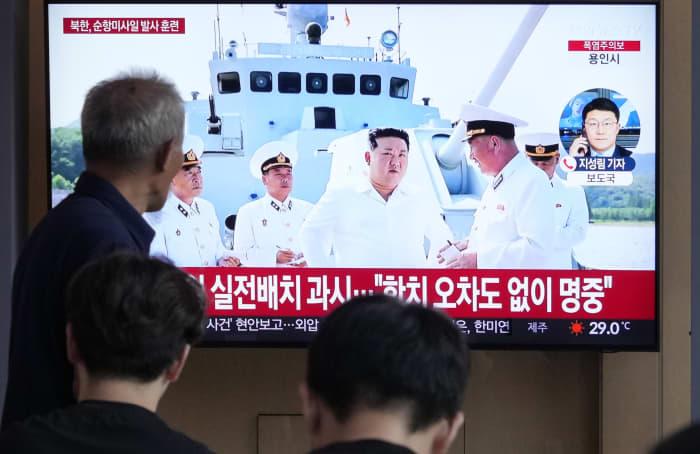 North Korean Leader Kim Jong Un watches cruise missile launches as U.S. and South Korean troops kick off their annual drills (Photo: MarketWatch)
North Korean leader Kim Jong Un perceives the firing Exercise as an Invasion Rehearsal
According to a report in the Toronto Star, North Korean Leader Kim Jong Un, oversaw the trial launch of strategic cruise missiles from a naval vessel. This event was disclosed by state media on Monday, coinciding with the commencement of extensive annual military exercises by the U.S. and South Korean armed forces, which Kim Jong Un perceives as a practice for a potential invasion.
The North Korean announcement regarding their missile tests occurred three days following a summit in the United States, where the leaders of the United States, South Korea, and Japan agreed to strengthen their security and economic partnerships.
While conducting an inspection of a naval flotilla along the eastern coastline, North Korean leader Kim Jong Un embarked on a patrol boat to assess its weapons and readiness for potential combat. North Korean leader Kim Jong Un later watched its seamen conducting a drill of launching "strategic" cruise missiles, the official Korean Central News Agency said. KCNA didn't say when the missile launches happened, and a state media photo showed North Korean leader Kim Jong Un watching the launch of a missile from another place, not on the patrol boat. The inclusion of the term "strategic" by KCNA regarding the tested weaponry suggested that these arms might have been designed for the purpose of carrying nuclear warheads.
Leaders from the US, South Korea, and Japan Join Forces: Promise Real-Time Missile Data Sharing and Trilateral Exercises in Summit
In an NBC News article, since the beginning of 2022, North Korean leader Kim Jong Un's regime has conducted over 100 weapons tests, including some with nuclear-capable missiles intended for targeting the United States, as well as its allies South Korea and Japan. In reaction to these tests, the United States and South Korea have heightened their routine training exercises.
At the Camp David summit, the leaders announced the formation of a trilateral working group to combat North Korean cyber threats and sanctions evasion through cyber means. They also agreed to establish a hotline for swift threat responses. North Korean leader Kim Jong Un's regime has expressed its intention to reinforce its military capabilities due to the perceived security cooperation among the three countries. South Korea's intelligence reported North Korea's preparations for long-range missile launches and a satellite deployment, following a failed attempt in May.