U.S. Military Weapons for Ukraine Face Security Concerns in Transit, Pentagon Report Reveals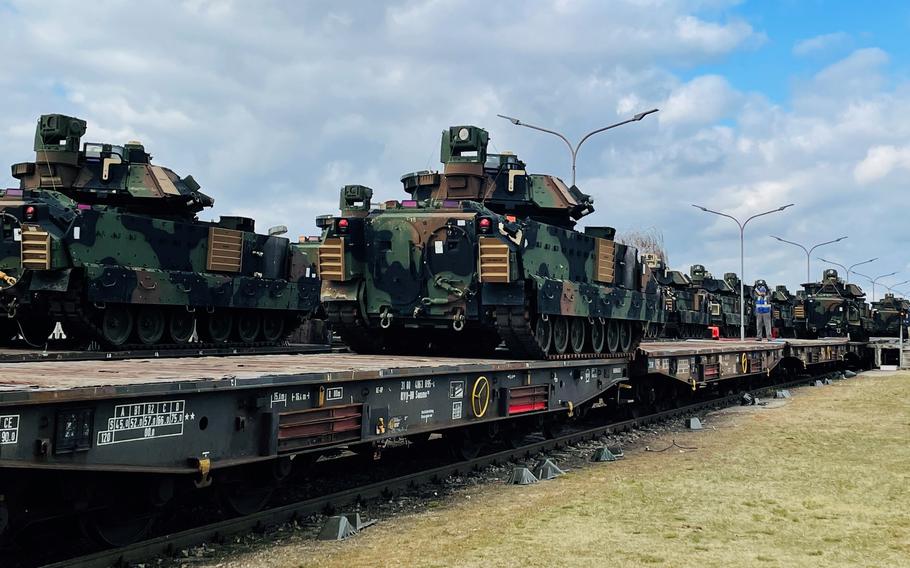 A recent Pentagon investigation has raised concerns about the security of U.S. military weapons and ammunition being transferred to Ukraine. (Photo: Star and Stripes)
Pentagon Probe Raises Concerns About Security of U.S. Military Weapons Transfers to Ukraine via a logistics site in Poland
According to Stripes article, a recent Pentagon investigation has raised concerns about the security of U.S. military weapons and ammunition being transferred to Ukraine via a logistics site in Poland. The investigation revealed inconsistent adherence to security measures, posing a risk of loss or theft of these sensitive materials. Notably, a Defense Department Inspector General report highlighted a specific incident where a batch of Bradley Fighting Vehicles containing machine guns was inadvertently left unguarded at the site.
Since Russia's invasion of Ukraine in February 2022, the U.S. has contributed over $40 billion in security assistance to Kyiv, including U.S. military weapons. This aid comprises military equipment initially dispatched from the U.S. to European air and sea ports, as well as supplies originating from U.S. military facilities within Europe. U.S. service members oversee the transport of these materials to depots on NATO's eastern flank before transferring them to Ukrainian trucks and trains.
The Inspector General's investigation primarily focused on the transfer of U.S. military weapons and military aid at a significant Polish logistics hub before being sent by rail into Ukraine. Although American military personnel were found to have effectively coordinated the ground movement and transfer of the aid, the report emphasized inconsistencies in adhering to security controls. These controls are in place to prevent arms, ammunition, and explosives, including U.S. military weapons, from falling into the wrong hands, such as criminals or terrorist groups.
Critical Gaps in Security: Investigation Reveals Alarming Failures in Guarding Aid Shipments to Ukraine Amidst Escalating Tensions
According to the Flipboard article, the investigation, conducted from January to June, included observations of two missions in March, involving aid transported to a railway yard and subsequently loaded onto Ukrainian trains. In both instances, it was noted that the troops responsible for guarding the equipment were not adequately prepared for their roles.
The report pointed out instances where the guard force lacked essential documentation, communication equipment, and proper force posture for safeguarding sensitive cargo. In a related development, the Department of Defense Inspector General announced the deployment of a senior official to the U.S. Embassy in Kyiv, with plans to send more personnel to monitor U.S. security assistance to Ukraine.
This marks the first time the watchdog agency will have staff stationed in the country since Russia's full-scale invasion.