USS Gerald R. Ford, The World's Largest Aircraft Carrier, Arrives in Trieste, Italy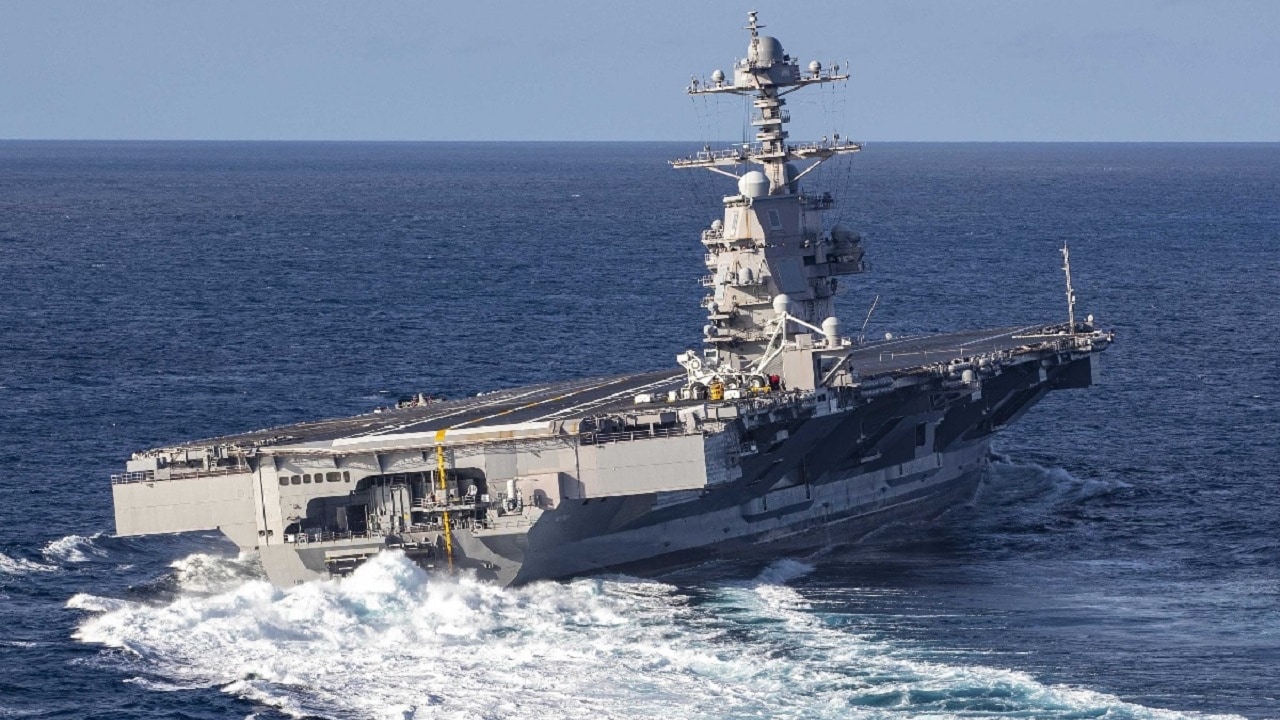 The USS Gerald R. Ford, the largest aircraft carrier in the U.S. Navy, arrived in Trieste, Italy, during its deployment in the Mediterranean. (Photo: 19FortyFive)
USS Gerald R. Ford Strengthens U.S.-Italy Alliance
According to the Navy. mil article, the USS Gerald R. Ford (CVN 78), the U.S. Navy's colossal aircraft carrier, made its arrival in the port of Trieste, Italy, on September 17, 2023. This marks the fifth port visit during its deployment to the U.S. Naval Forces Europe (NAVEUR) area of operations, serving as an opportunity to strengthen the enduring partnership between the United States and Italy.
Over the past four months, the Gerald R. Ford Strike Group engaged in joint exercises and training with the Italian Navy, enhancing regional security in the Mediterranean. These activities demonstrated the United States' commitment to stability and allowed for personnel exchanges, fostering operational cooperation.
Rear Adm. Erik J. Eslich, Commander of Carrier Strike Group 12, emphasized, "Interoperability between our forces improves our understanding of collective capabilities and fosters regional stability." Before reaching Trieste, the USS Gerald R. Ford welcomed military leaders to observe its operations at sea, highlighting its impressive capabilities. This visit also enabled the local community to engage with the U.S. Navy, as the crew participated in a city clean-up event. Now anchored off Trieste's coast, the carrier hosts local officials and military leaders to celebrate the strong U.S.-Italy alliance, offering insights into Italy's rich history and culture.
USS Gerald R. Ford: A Marvel of Naval Engineering and a Pillar of Global Defense
According to Slovenia Post, it boasts impressive dimensions, measuring 337 meters in length, 76 meters in height, and 78 meters in width on its upper deck. With 25 decks in total, the aircraft carrier can house a substantial fleet, accommodating as many as 90 planes and helicopters, along with a crew and personnel exceeding 4,500 individuals. It possesses a remarkable displacement of 100,000 tons and is capable of achieving speeds of up to 30 knots.
The USS Gerald R. Ford Carrier Strike Group (GRFCSG) is on a scheduled deployment in the U.S. Naval Forces Europe-Africa/U.S. Sixth Fleet area, demonstrating the Navy's commitment and global power projection capabilities. With over 5,000 personnel across various platforms, the GRFCSG stands ready to fulfill missions, including deterring adversaries, reassuring allies, and safeguarding global commerce. Comprising Carrier Strike Group 12, Carrier Air Wing 8, Destroyer Squadron 2, USS Normandy (CG 60), USS Ramage (DDG 61), USS McFaul (DDG 74), and USS Thomas Hudner (DDG 116), the GRFCSG plays a pivotal role in collective defense within the region.
U.S. Naval Forces Europe-Africa/U.S. Sixth Fleet, headquartered in Naples, Italy, underscores the U.S. commitment to collective defense, operating within U.S. European Command (USEUCOM) and U.S. Africa Command (AFRICOM) areas, employing maritime forces in joint and naval operations.